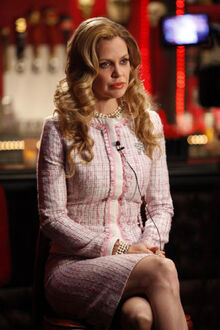 In Season 4 of True Blood, Pam wears this pink power suit. Well, know we know more about it! Here it is from the own lips of costume designer "Audrey Fisher".
About the Dress
Edit
This is a Chanel knockoff that I found in a consignment store for when Pam is trying to be a good vampire. Pam wears an Upper East Side ladylike suit that looks very proper when she is trying to pretend, and it's usually pink because that's hilarious. She was being forced to do a pro-vampire ad and doing it terribly, so this was the perfect choice.
Image Gallery
Edit
Ad blocker interference detected!
Wikia is a free-to-use site that makes money from advertising. We have a modified experience for viewers using ad blockers

Wikia is not accessible if you've made further modifications. Remove the custom ad blocker rule(s) and the page will load as expected.