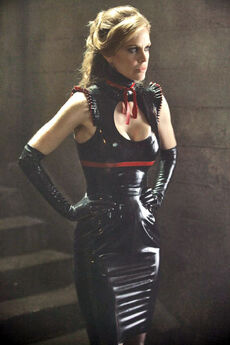 In Season 3 of True Blood, Pam wears this stunning black latex dress. Well, know we know more about it! Here it is from the own lips of costume designer "Audrey Fisher". This dress was customarily made for Pam and is called a "Syren Dutch Playmate Ancilla Tilia Dress"
About the Dress
Edit
"That's a latex dress from a really wonderful store in L.A. called Syren that I work with a lot. They have an incredible line of latex fashion and designers, and this is one of their staples that I customized and added latex gloves to match. It was featured in an exhibit on the little black dress at the Fashion Institute of Design and Merchandising. It's a very elegant dress that happens to be made out of rubber. It's so very Pam, and getting it on is not easy. The trick is lube. You have to lube yourself up and slide into it and use lube to keep it shiny. Kristin's figure is a dream to costume, and we have so much fun. She will put anything on and we'll just work it out. She is pretty fearless."
Image Gallery
Edit
Ad blocker interference detected!
Wikia is a free-to-use site that makes money from advertising. We have a modified experience for viewers using ad blockers

Wikia is not accessible if you've made further modifications. Remove the custom ad blocker rule(s) and the page will load as expected.