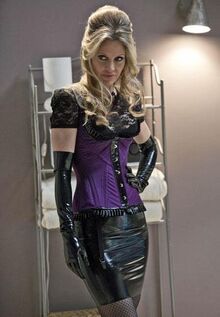 In Season 5 of True Blood, Pam wears this stunning black/purple corset styled dress. Well, know we know more about it! Here it is from the own lips of costume designer "Audrey Fisher".
About the Dress
Edit
"This is another Syren piece. It's a really beautiful purple satin and black latex corset with a black latex skirt and black latex gloves. There's a little lace 1880s-looking top underneath by a wonderful company called Heavy Red that makes beautiful corsets, steampunk (think the 2011 movie 'Sucker Punch') and goth. This outfit was designed to replicate the silhouette from the turn of the century to provide a bridge from the turn of the century look to the current look. Pam has a look that she likes and it works even 100 years later."
Image Gallery
Edit
Ad blocker interference detected!
Wikia is a free-to-use site that makes money from advertising. We have a modified experience for viewers using ad blockers

Wikia is not accessible if you've made further modifications. Remove the custom ad blocker rule(s) and the page will load as expected.