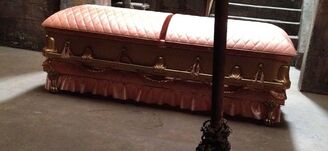 "It was awesome from start to finish."
―Le'Ce Edwards, on creating Pam's coffin.
Pam's coffin is in the basement of Fangtasia. Pam's casket has most recently been seen in Season 4 and 5 of True Blood. There is another coffin next to her's, that Tara now sleeps in.
True Secret
Edit
Set Decorating Buyer Le'Ce Edwards reveals that creating Pam's pink leatherette was one of her favorite tasks.
Image Gallery
Edit
Ad blocker interference detected!
Wikia is a free-to-use site that makes money from advertising. We have a modified experience for viewers using ad blockers

Wikia is not accessible if you've made further modifications. Remove the custom ad blocker rule(s) and the page will load as expected.