"You make me so happy I never had any of you."
―Pam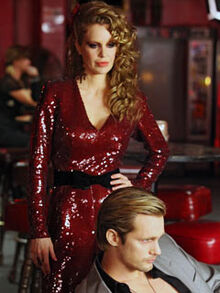 Pam is first seen when, Lafayette has been kidnapped and is being held with others, in Fangtasia.
After a failed attempt to escape from the basement of Fangtasia, Lafayette is injured, by Ginger and asks Eric Northman, Pam and Chow to turn him into a vampire. Fangs bared, all three of them feed on him. (Episode: "Keep This Party Going")
Sookie Stackhouse, is attacked by Maryann. Eric summons Chow and Pam to look for the Maryann. They find nothing but a foul smell and a loss of good pumps. (Episode: "Scratches")
After Lafayette was freed, Pam ordered him to sell vampire blood for Eric.
Pam, again at Fangtasia, when Sam Merlotte came to ask Eric for help and information. With Sam were Arlene Fowler's two children. Pam, after babysitting a while, learns that she hates children. (Episode: "Frenzy")