One of Pam's
True Secrets
is
Pam's human life
.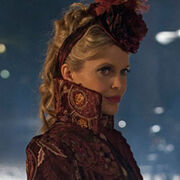 Secret Human Years
Edit
Creator Alan Ball explains the backstory of Pam:
"Pam was part of a fancy upper crust English family and she got caught with another woman. They sent her to Califonia to live with 'relatives', but when she arrived, there were no 'relatives'- the family basically said "buh-bye." Being resourceful, and a survior, she became very succseful Madam of a brothel."
According to writer Raelle Tucker:

"The origin of Pam is probably one of my favorite things that I've been able to do. I love period. I love the setting and I find the world very exciting. Bringing Bill and Lorena into that world is a fun surprise. If you look back at Season 1 you feel this underlying tension between Eric, Bill and Pam that we've never really explained. It's very satisfying to answer those questions."
Ad blocker interference detected!
Wikia is a free-to-use site that makes money from advertising. We have a modified experience for viewers using ad blockers

Wikia is not accessible if you've made further modifications. Remove the custom ad blocker rule(s) and the page will load as expected.